It's a very common thing that we all do. First, we consume a lot of time while gathering data and the look out means to store it.
To demonstrate this situation, let's begin with the basic level of computing. Supposing a situation like you are downloading and saving data like videos, songs, and pictures. You commonly store this data on your hard drive.
But when there is no extra place for new information, and you don't want to erase any of your beloved memories or files, what will you do?
Of course, You go shopping for a larger size of hard drive. It's a very common thing that the more the data you gather, the more space you require.
There are various ways of caching this data. Some people invest in large-capacity hard drives while some guys dump their data onto a CD. Organizations even have dedicated servers to maintain their whole computer system.
But now in modern days, some are preferring to depend on a thriving trend names the Cloud.
The "Cloud" is a new metaphor for the Internet today. You have seemingly using Cloud computing without even noticing, like logging on web-based emails like Yahoo Mail and Gmail and uploading songs, videos, and pictures on the Internet.
[Tweet "The "Cloud" is a new metaphor for the Internet today. Check How?"]
Why Does Your Business Need to Move to the Cloud?
This new class of web hosting has indeed endeavored various benefits to its users, whether you are a small or midsize company or a multinational corporation or a start-up business.
Nevertheless, the two most essential requirements that have made cloud hosting a catch phrase among various companies are scalability and cost-effectiveness.
Cloud Hosting is a very secure, smoothly scalable and affordable hosting that varies from the traditional hosting solutions in numerous aspects.
How diverse is Cloud hosting from another kind of hosting services?
Here is a brief contrast that will clear the differentiation more for you. Read on to find out.
# Traditional Hosting
Traditional hosting has two forms, Shared and Dedicated Hosting.
With Shared Hosting which is mostly popular amongst small and medium-sized companies. The client pays for a set amount of disk space on a single server, and some separate websites share the server sources too.
It's a cost-effective method to host a website. And your web hosting company is responsible for administering, managing, and modernizing the units.
With dedicated hosting, an organization pays for the entire resources of the servers to web hosting provider.
The customer has a set quantity of dedicated CPU, Bandwidth, RAM, and disk space. And the client has full control over their servers resources.
Traditional hosting, mainly shared hosting, has its shortcomings.
# As the resources of a single server are shared among some various sites, so sudden spikes in traffic to other sites can cause reduced performance for your website.
# Similarly, Different performance issues and Security breaches give your site a threaten too. There is an only single server so a single point of failure.  But in case if the server solely experiences any technical issues, every other website hosted on that shared server will be affected.
# If there will be extra traffic surges on your site, then you need extra disk space or bandwidth. But if traffic drops again, you will be paying for resources that you aren't using.
# VPS Hosting
VPS Hosting or Virtual Private Server Hosting is a terminology used to relate to a virtual machine.
Rather of having an actual physical computer as a server, VPS runs as software on a user's PC but operates like a separate computer assigned to the particular customer's I.T. needs.
In reality, VPS is only a part of a real server that is distributed virtually to perform to the user as a dedicated server.
Virtualisation helps to provide a dedicated space on the server with a dedicated volume of resources too.
It delivers more authority and authenticity. But it still has a single point of failure because it is still just one server after all.
# Cloud Hosting
It is gradually growing as the most recommended web hosting service. It depends on a network of servers that make up the Cloud.
There is practically no downtime for your site because it uses some different servers. A one server will always be there from the Cloud to cope with your demands.
Cloud hosting allows more flexibility to customers. If you need more computing power, the Cloud can easily accommodate that.
You can easily release the extra resources from the cloud. There is no reason to buy expensive hardware and set it up as the Cloud hosting vendor takes charge of it for you.
You just pay for the services you use from the provider.
[Tweet "How diverse is Cloud hosting from another kind of hosting services?"]
The most common judgment for Cloud hosting is privacy and security since all the data can be seen and accessed by the service provider.
Decision Round: Why go for cloud hosting over traditional hosting?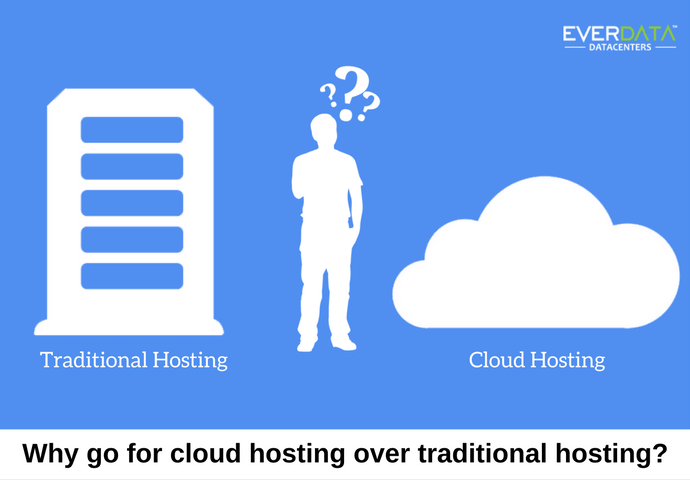 #1. Quick adoption: You can have a cloud server up and running in 30 seconds. Your cloud platform is accessible to anyone you want, in any place.
The provider can tie a traditional VPS to a cloud hosted User Interface to help from high performance worldwide, but it is not as easy to create and destroy the VPS.
#2. Pay for the sources as per your demands: In cloud hosting model you do not have to bother about the investment as you don't need to fund any infrastructure. And Operational expenditure is also less because you need to spend only for the sources or services which you employ.
Whereas in a traditional hosting model you need to pay a fixed amount for the services either you use them or not.
#3. Freedom of place: Traditional web hosting servers are limited to a planned distance. Thus, so you need to be particular while picking your server as the location of server performs a famous role in loading speed of sites.
Whereas cloud hosting servers are being across the globe. They are available globally via an internet connection and with any device-PC or mobile.
#4. Latest technology: Cloud Hosting models support advanced technologies. It lets you customize and integrate your software applications, as per your needs and preferences of your business.
It may involve latest versions of software and upgrades to servers etc. On the other hand, you will not be able to upgrade and customize with traditional hosting.
#5. Increased Server uptime: Server uptime is straightly proportional to the performance of your site. Cloud hosting presents best network uptime and promises no single.
 As it is a system of multiple servers and if one of the servers is not taking your requests then automatically the request or workload will be forwarded to one of the other multiple servers.
Although, in traditional hosting, a single server set up hardware failure risks and downtime for your site and applications.
If you can believe of any other advantage of cloud hosting over traditional hosting, feel free to append to the list.
Note: Are you ready to move to the cloud services? Have a look on this checklist you should ask your provider before proceeding to them.